SERVING THE INDIAN COMMUNITY SINCE 1962
India Association of Greater Boston (IAGB) is the oldest and one of the leading Indian-American organizations in New England. It serves the Indian-American communities in the Greater Boston area - Massachusetts, New Hampshire and Rhode Island. Learn more
IAGB is a nonprofit, tax-exempt organization (tax identification number 04-6151879) under Section 501(c)(3) of the Internal Revenue Code. Donations are tax-deductible.
Upcoming Events
Antakshari  Semi-Finals Dinner Gala

Congratulations to all  the participants and the semi finalists. The following 8 teams will be competing at the semi-finals and four winning teams will make it to the Grand Finale at the Republic Day Mela 2019. The semi-finals dinner gala is on January 12, 2019 at Priya Restaurant, Lowell, MA.
Bijalee: - Samita Apte and Prachi Mahurkar
Aa Dekhen Zara: - Preeti Sharma and Vipul Kumar
Burmaniacs: - Anish Desai and Krishna Desai
Pawan-Divya: - Pawan Lalwani and Divya Lalwani
Piku PK: - Japneet Kawatra and Vaibhav Bhoite
Deewane: - Suruchi Sinha Saxena and Sapan Saxena
Cambridge Chutney: - Swati Purawat and Anumeha Shah
Mile Sur Mera Tumhara: - Shilpa Atnoor and Rajesh Iyer
Please register at
Antakshari semi-finals
and, come and cheer the teams. On semi-finals day, the registration starts at 6pm and Antakshari rounds will start from 6.30pm. Buffet dinner will be served through the evening.
Republic Day Mela 2019

We are excited to announce the details for the upcoming Republic Day Mela 2019. It will be celebrated on January 26, 2019 at the Burlington High School, Burlington, MA.
Segment 1: Competitions
The day will begin with competitions for all ages. Click 
here
 to sign up. Participation is open for all members. Competitions include:
Art
Chess
Carrom
Story Telling
Elocution/Declamation
Poetry Writing
General Knowledge (GK Quiz)
Skit
Segment 2: Cultural Performances and Antakshari Grand Finale
Entries for 
cultural performances
 can be in the kids' segment (ages 6 - 12) or the adults' segment (ages 13 and above). Groups with 5-10 participants can perform for a maximum of 5 minutes, and those with more than 10 participants can perform for a maximum of 8 minutes. Solo performances are not permitted. All entrants should submit a short video of their proposed performances for evaluation by the IAGB Cultural Committee (CC). The deadline for online submission of forms and links to YouTube videos for evaluation is December 15, 2018. Selections will be communicated to you by December 25, 2018. Click 
here
 to sign up. Participation is open for all members.
Antakshari semi final dinner gala is on January 12th at Priya Restaurant in Lowell, MA  and Grand Finale will be at the Republic Day Mela.
Sponsorship, Advertising and Exhibition Booths: Similar to every year, the Republic Day Mela will feature opportunities to showcase art, jewelry, services from our local vendors and supports. Please visit our website for early bird registration or contact us via email.
If you have any questions, please reach out to us at 
iagb@iagb.org
.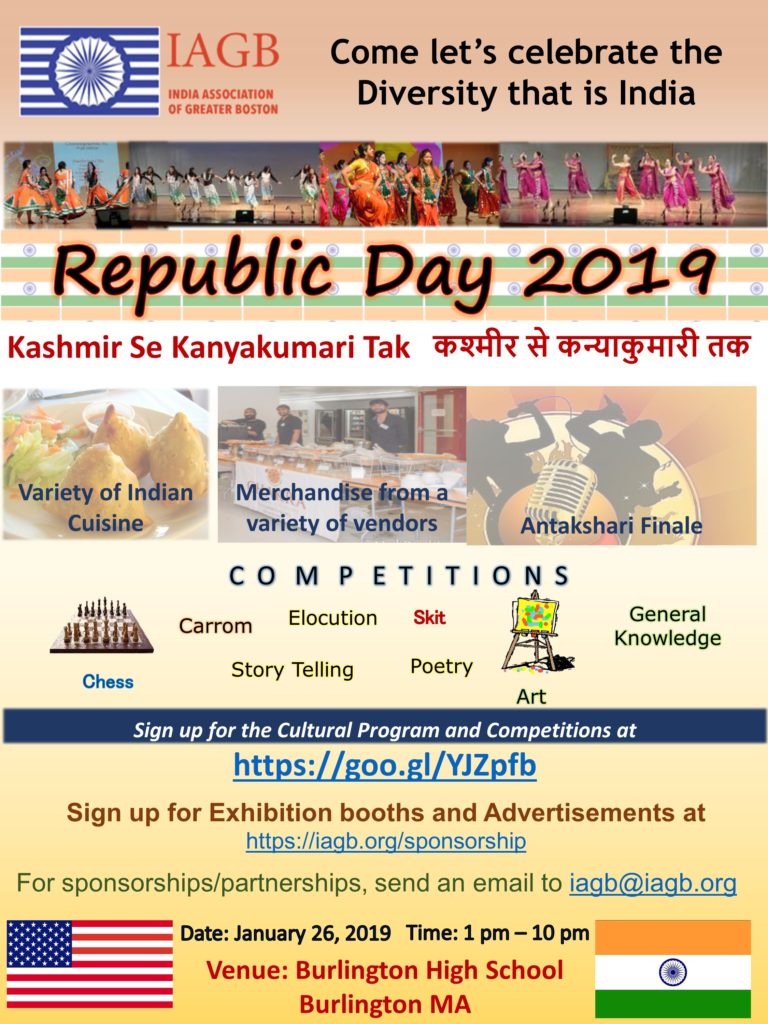 IAGB's Newsletter
The newsletter features IAGB news and updates as well as some community information, and messages from our sponsors and advertisers for the benefit of our readers.
We invite you to submit guest columns on diverse topics for inclusion in the newsletter. We welcome your feedback and suggestions !! Please contact us at iagb@iagb.org if you wish to make community event announcements through this newsletter.
Sing up to receive the news letter : IAGB's Monthly News Letter