SERVING THE INDIAN COMMUNITY SINCE 1962
India Association of Greater Boston (IAGB) is the oldest and one of the leading Indian-American organizations in New England. It serves the Indian-American communities in the Greater Boston area - Massachusetts, New Hampshire and Rhode Island. Learn more
UPCOMING EVENTS
March 2018: Living Will and Healthcare Proxy Workshop
 IAGB will host, in partnership with the India Circle for Caring USA, Inc. (ICC), a series of workshops to discuss 'Living Will and Healthcare Proxy'. The workshops will be held in two locations as noted below.  It will discuss the impact of these key topics on our lives. Attendees will leave with information and a document that they can complete in the privacy of their home.
Chelmsford Public Library, Chelmsford, MA: March 3, 2018 - 2 pm - 4:30 pm
Cambridge Pulic Library, Cambridge, MA: March 10, 2018 - 1 pm - 3:30 pm
Click on Sign up for Event to register. Event is free for all; seating is limited and preference will be given to IAGB members.
April/May 2018: Antakshari 
IAGB will host the finale of its popular event from last year – IAGB Antakshari. Similar to last year, there will be prelim and semi-final rounds leading up to the finale. Details on prelim locations and dates will be shared soon. 
Participation in IAGB Antakshari is open to all IAGB Members. 
May 2018: College Admissions Seminar
IAGB will host an interactive seminar that addresses the needs of both long term (children in middle school) and short term (children in high school) planning for college admissions. The discussion will be led by Dr. Anil Saigal, Professor, Tufts University. 
Open to all IAGB Members.
May 2018: Community Services – Walk for Hunger 
Walk for Hunger - May 6, 2018 - IAGB will host a team for Project Bread's Walk for Hunger. This will give the Indian American Community an opportunity to show its presence and contribute towards a great cause. As we enjoy a walk in Boston neighborhoods it will give us a chance to connect with people. 
Open to all IAGB Members and members of participating organizations.
Note: Event dates may vary slightly based on venue availability. 
IAGB Makes a Break From the Past, Elects Aditi Taylor President and Sanjay Gowda Vice President. Read more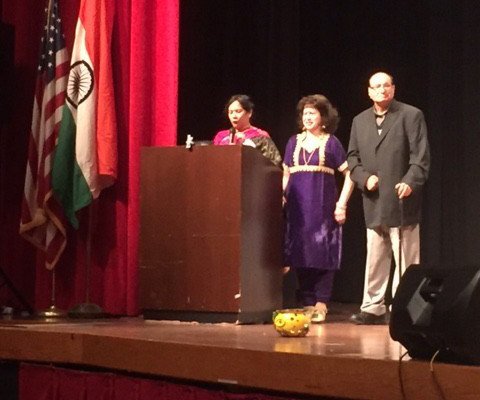 BURLINGTON, MA—During the 67th anniversary celebrations of Indian's Republic Day in Burlington, MA, India Association of Greater Boston (IAGB) honored Kaplesh Kumar of Wellesley, MA,