Upcoming Events
December 9, 2017: Well Wish Cards Project & Donation Drive 
In partnership with Cradles to Crayons to benefit local children living in low income and homeless situations. IAGB will gather select items for donation. Additionally, your children can come in and design a 'well wish' greeting card with a message to go with the donation. Our goal is to send at least 100 cards from our community.
Venue: Burlington Library, Burlington, MA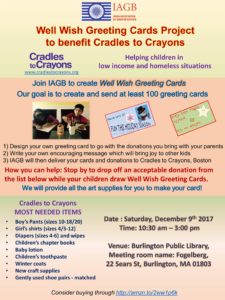 December 9, 2017: Special Hearing for By-Laws Update (Members Only)
The IAGB by-laws are being revised and will need to be approved via a Special Hearing of the General Body. Updated draft will be shared with members via email and posted on the website three weeks prior to the Special Hearing.
Venue: Burlington Library, Burlington, MA
January 27, 2018: Republic Day Mela 
IAGB will organize thirteen (13) competitions and a cultural performances segment under one roof in a day-long Republic Day Mela. To view the detailed rules for the cultural performance and the various competitions, please sign up at: 
Sign Up For RD Mela
Note there is no participation fee for the competitions or the cultural performances. However, in order to participate you have to be a member of IAGB. Members and their families can participate for free in multiple competitions and performances. If you are not currently a member, please sign up for membership at:
Sign Up For Membership
Venue: Burlington High School, Burlington, MA
Detailed program breakdown will be shared at a later time.
Past Events
November 18, 2017: Consulate Facilitation Camp: Consulate@YourDoorstep 
IAGB partnered with Global Indians for Bharat Vikas (GIBV) to organize a camp wherein applicants for Indian passports/visa/OCI cards could get their applications pre-approved before submitting to CKGS. There was a community reception and Q&A with the recently appointed Consul General of India in New York and the Deputy Consul General.
Venue: Chinmaya Mission, Andover, MA